BLUE BEACON TRUCK WASH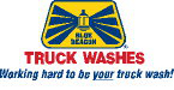 Highway:
I-40
Exit:
66
Street Address:
9465 E. Nellie Drive
City:
Kingman
State:
AZ
Phone:
928-757-9898
Offered at this truck wash
Truck Washing
Exterior Trailer Washing
Trailer Washouts
(Excluding Tanker and Live Stock Trailers)
Rain-X ® Complete All Surface Protectant
citrushine Polished Aluminum Cleaner
Engine Wash
Aluminum Trailer & Accessory Brightening
WeatherShield Paint Protectant
RV Washing
Motorcoach Washing
Horse Trailer Washing (Exterior)

Special Services
Blue Coral ® Premium Protectant
Rain-X ® Windshield
Tire Dressing
Hand Dry
Going into California? Blue Beacon of Kingman is the place you need to be. Located on I-40, exit 66, we are the last stop before the California state line. Located behind the Petro travel plaza, this exit is perfect for all your truck washing needs. You will always find our friendly staff committed to delivering a consistent, high quality wash. In addition, we are now able to provide engine washes to help you comply with California's ongoing restrictions. We also provide front drive services, WeatherShield Paint Protectant, hand dry, tire dressing, and Rain-x® Complete.