BLUE BEACON TRUCK WASH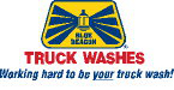 Highway:
I-15
Exit:
46
Street Address:
2932 Losee Rd.
City:
Las Vegas
State:
NV
Phone:
702-642-4999
Offered at this truck wash
Truck Washing
Exterior Trailer Washing
Trailer Washouts
(Excluding Tanker and Live Stock Trailers)
Rain-X ® Complete All Surface Protectant
citrushine Polished Aluminum Cleaner
Engine Wash
Aluminum Trailer & Accessory Brightening
WeatherShield Paint Protectant
RV Washing
Motorcoach Washing
Horse Trailer Washing (Exterior)

Special Services
Tire Dressing

Blue Beacon of Las Vegas is working hard to be "your" truck wash. Our professional, courteous staff is committed to providing you with a great wash in the shortest amount of time possible. The next time you pass through the Four Corners area, stop in and let us serve your truck washing needs. We are located just off I-15 at exit 46.