BLUE BEACON TRUCK WASH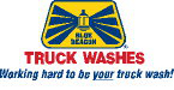 Highway:
I-80
Exit:
353
Street Address:
4500 S Lincoln
City:
York
State:
NE
Phone:
402-362-1655
Offered at this truck wash
Truck Washing
Exterior Trailer Washing
Trailer Washouts
(Excluding Tanker and Live Stock Trailers)
Rain-X ® Complete All Surface Protectant
citrushine Polished Aluminum Cleaner
Engine Wash
Aluminum Trailer & Accessory Brightening
WeatherShield Paint Protectant
RV Washing
Motorcoach Washing
Horse Trailer Washing (Exterior)

Special Services
Undercarriage Rinse

Blue Beacon of York, Nebraska, is located at I-80, exit 353, at the Petro travel plaza. This double-bay operation provides a great wash, 24 hours a day, 7 days a week. We offer many different services, including citrushine Polished Aluminum Cleaner, which can be used on a broad range of equipment.