BLUE BEACON TRUCK WASH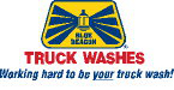 Highway:
I-94
Exit:
167
Street Address:
98 Baker Road
City:
Dexter
State:
MI
Phone:
734-426-5859
Offered at this truck wash
Truck Washing
Exterior Trailer Washing
Trailer Washouts
(Excluding Tanker and Live Stock Trailers)
Rain-X® Complete All Surface Protectant
citrushine Polished Aluminum Cleaner
Engine Wash
Aluminum Trailer & Accessory Brightening
WeatherShield Paint Protectant
RV Washing
Motorcoach Washing
Horse Trailer Washing (Exterior)

Located off I-94, Exit 167, by the TA Travel Center, Blue Beacon of Dexter is proud to serve the transportation and Michigan communities. We offer all Blue Beacon wash services including citrushine Polished Aluminum Cleaner - it removes the dirty film but leaves the shine on your polished aluminum. We are open 24 hours a day, 7 days a week to better serve our customers and an appointment is never required. As always, we appreciate your business, thanks for stopping by!