BLUE BEACON TRUCK WASH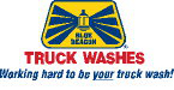 Highway:
I-94
Exit:
30
Street Address:
1930 E. Napier Avenue
City:
Benton Harbor
State:
MI
Phone:
269-925-9555
Offered at this truck wash
Truck Washing
Exterior Trailer Washing
Trailer Washouts
(Excluding Tanker and Live Stock Trailers)
Rain-X® Complete All Surface Protectant
citrushine Polished Aluminum Cleaner
Engine Wash
Aluminum Trailer & Accessory Brightening
WeatherShield Paint Protectant
RV Washing
Motorcoach Washing
Horse Trailer Washing (Exterior)

It has been a pleasure to serve our customers here in southwest Michigan since 1995, and we look forward to meeting all your vehicle washing needs in the years to come. Please stop in anytime at our I-94, exit 30 location, 24 hours a day, to let our service professionals make your equipment shine! We want what you want - a clean vehicle that makes you proud.