BLUE BEACON TRUCK WASH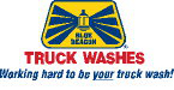 Highway:
I-75
Exit:
29
Street Address:
128 W. Cumberland Gap Pkwy.
City:
Corbin
State:
KY
Phone:
606-528-4461
Offered at this truck wash
Truck Washing
Exterior Trailer Washing
Trailer Washouts
(Excluding Tanker and Live Stock Trailers)
Rain-X ® Complete All Surface Protectant
citrushine Polished Aluminum Cleaner
Engine Wash
Aluminum Trailer & Accessory Brightening
WeatherShield Paint Protectant
RV Washing
Motorcoach Washing
Horse Trailer Washing (Exterior)

Visit our "award winning" location. Blue Beacon of Corbin is nestled in beautiful southern Kentucky. Located at I-75, exit 29, by Citgo travel plaza, Blue Beacon of Corbin is committed to delivering excellent quality with a spot-free/streak-free rinse. If at any time you visit our facility and are not completely satisfied, please feel free to speak with a member of management, a supervisor, or any of our professional staff.