BLUE BEACON TRUCK WASH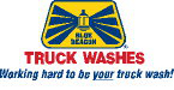 Highway:
I-65
Exit:
86
Street Address:
446 West Glendale Hodgenville Road
City:
Glendale
State:
KY
Phone:
270-369-0171
Offered at this truck wash
Truck Washing
Exterior Trailer Washing
Trailer Washouts
(Excluding Tanker and Live Stock Trailers)
Rain-X® Complete All Surface Protectant
citrushine Polished Aluminum Cleaner
Engine Wash
Aluminum Trailer & Accessory Brightening
WeatherShield Paint Protectant
RV Washing
Motorcoach Washing
Horse Trailer Washing (Exterior)

Special Services
Undercarriage Rinse
Tire Dressing (Weather Permitting)

Our superb customer service and commitment to delivering a fast, high-quality wash ensures that you will be pleased. Blue Beacon of Glendale proudly offers tire dressing and citrushine Polished Aluminum Cleaner which removes the film and leaves the shine. Our innovative overhead trailer rinse system aids in a spot-free and streak-free rinse. Our double bay facility is conveniently located at exit 86 off of Interstate 65 next to the Petro Travel Plaza. We are prepared to meet all your equipment cleaning needs 24 hours a day and 7 days a week.