BLUE BEACON TRUCK WASH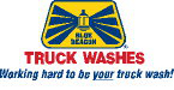 Highway:
I-65
Exit:
81
Street Address:
440 E. Western Avenue
City:
Sonora
State:
KY
Phone:
270-369-8290
Offered at this truck wash
Truck Washing
Exterior Trailer Washing
Trailer Washouts
(Excluding Tanker and Live Stock Trailers)
Rain-X® Complete All Surface Protectant
citrushine Polished Aluminum Cleaner
Engine Wash
Aluminum Trailer & Accessory Brightening
WeatherShield Paint Protectant
RV Washing
Motorcoach Washing
Horse Trailer Washing (Exterior)

Special Services
Tire Dressing (Weather Permitting)

Blue Beacon of Sonora, Kentucky, is proud to be your truck wash. We are located at I-65, Exit 81, by the Pilot Travel Plaza (previously known as Davis Bros). We offer friendly, fast service for all of your vehicle and equipment needs 24 hours a day, 7 days a week. We now offer citrushine Polished Aluminum Cleaner. It cleans your aluminum without turning it white. In addition, we are now able to perform engine washes. So the next time you are in Kentucky, stop by and give us a try!