BLUE BEACON TRUCK WASH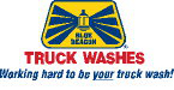 Highway:
I-70
Exit:
252
Street Address:
2303 N. Ninth
City:
Salina
State:
KS
Phone:
785-827-1009
Offered at this truck wash
Truck Washing
Exterior Trailer Washing
Trailer Washouts
(Excluding Tanker and Live Stock Trailers)
Rain-X® Complete All Surface Protectant
citrushine Polished Aluminum Cleaner
Engine Wash
Aluminum Trailer & Accessory Brightening
WeatherShield Paint Protectant
RV Washing
Motorcoach Washing
Horse Trailer Washing (Exterior)

Special Services
Undercarriage Rinse

While traveling through the crossroads of America, stop at the first Blue Beacon truck wash ever built. We are located at Exit 252 by the Blue Beacon Travel Plaza. Our corner is newly renovated and easily accessible. Please stop by and visit us for all of your washing needs, you will be glad you did!