BLUE BEACON TRUCK WASH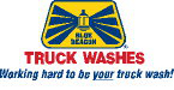 Highway:
I-70
Exit:
76
Street Address:
1003 Hwy 40
City:
Oakley
State:
KS
Phone:
785-672-3328
Offered at this truck wash
Truck Washing
Exterior Trailer Washing
Trailer Washouts
(Excluding Tanker and Live Stock Trailers)
Rain-X® Complete All Surface Protectant
citrushine Polished Aluminum Cleaner
Engine Wash
Aluminum Trailer & Accessory Brightening
WeatherShield Paint Protectant
RV Washing
Motorcoach Washing
Horse Trailer Washing (Exterior)

Special Services
Bay Wipe Down

Blue Beacon of Oakley has proudly been serving truck drivers since 1974. We are located at Mitten's TA Travel Plaza which has full service and repair. We are conveniently located at exit 76 off Interstate 70. So before your windshield becomes the final resting place for every bug from the east coast to the west coast, stop at Blue Beacon of Oakley where we will always give you our best.