BLUE BEACON TRUCK WASH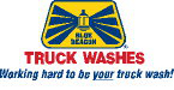 Highway:
I-55
Exit:
160-A
Street Address:
408 Caroline
City:
Bloomington
State:
IL
Phone:
309-828-2272
Offered at this truck wash
Truck Washing
Exterior Trailer Washing
Trailer Washouts
(Excluding Tanker and Live Stock Trailers)
Rain-X® Complete All Surface Protectant
citrushine™ Polished Aluminum Cleaner
Engine Wash
Aluminum Trailer & Accessory Brightening
WeatherShield Paint Protectant
RV Washing
Motorcoach Washing
Horse Trailer Washing (Exterior)

Blue Beacon of Bloomington has a well-trained staff that's ready and willing to listen to any concerns you may have about your high quality, professional wash. So stop by and get your truck clean and streak free. We offer citrushine Polished Aluminum Cleaner - it cleans your polished aluminum and leaves the shine. We are located on I-55, Exit 160, across the street from the Pilot Travel Plaza.