BLUE BEACON TRUCK WASH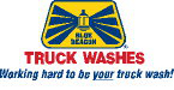 Highway:
I-39
Exit:
99
Street Address:
921 Petro Road
City:
Rochelle
State:
IL
Phone:
815-562-3496
Offered at this truck wash
Truck Washing
Exterior Trailer Washing
Trailer Washouts
(Excluding Tanker and Live Stock Trailers)
Rain-X Complete All Surface Protectant
citrushinePolished Aluminum Cleaner
Engine Wash
Aluminum Trailer & Accessory Brightening
WeatherShield Paint Protectant
RV Washing
Motorcoach Washing
Horse Trailer Washing (Exterior)
Is your rig giving you a dirty look? Our double bay truck wash in Rochelle, Illinois, located on I-39, 1 mile north of I-88, looks forward to providing you with superior truck and RV wash services. Our location is open 24 hours a day, 7 days a week, and offers you the best wash services for all of your equipment cleaning needs. We're looking forward to your visit!