BLUE BEACON TRUCK WASH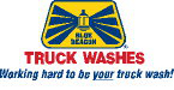 Highway:
I-285
Exit:
12
Street Address:
3181 Donald Lee Hollowell Pkwy.
City:
Atlanta
State:
GA
Phone:
404-794-9870
Offered at this truck wash
Truck Washing
Exterior Trailer Washing
Trailer Washouts
(Excluding Tanker and Live Stock Trailers)
Rain-X® Complete All Surface Protectant
citrushine Polished Aluminum Cleaner
Engine Wash
Aluminum Trailer & Accessory Brightening
WeatherShield Paint Protectant
RV Washing
Motorcoach Washing
Horse Trailer Washing (Exterior)

Special Services
NEW! Trailer Deodorizer
Tire Dressing (Weather Permitting)

Blue Beacon of Atlanta West is pleased to have served the trucking industry for over 15 years. We are located at the Petro travel plaza, Exit 12 off of I-285. We serve recreational vehicles, step vans, and straight trucks, as well as provide washout services to dry vans and reefer trailers. We provide two bays to keep your wait time to a minimum. Our experienced staff looks forward to serving you.