BLUE BEACON TRUCK WASH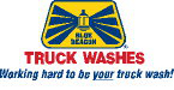 Highway:
I-95
Exit:
29
Street Address:
2752 US Highway 17 South
City:
Brunswick
State:
GA
Phone:
912-261-9338
Offered at this truck wash
Truck Washing
Exterior Trailer Washing
Trailer Washouts
(Excluding Tanker and Live Stock Trailers)
Rain-X® Complete All Surface Protectant
Engine Wash
Aluminum Trailer & Accessory Brightening
WeatherShield Paint Protectant
RV Washing
Motorcoach Washing
Horse Trailer Washing (Exterior)

Special Services
citrushine Polished Aluminum Cleaner
(Not offered at this location.)

Blue Beacon of Brunswick is located in the heartland of Georgia's Golden Isles at exit 29 off of Interstate 95. Our double bay facility is open 24 hours a day and 7 days a week. We provide highly trained personnel to deliver premium wash quality for all your equipment cleaning needs along with helpful and friendly service. With the International Auto Port located just one mile east, why not stop by and get your truck cleaned before you pick up your next load.