BLUE BEACON TRUCK WASH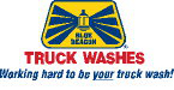 Highway:
I-85
Exit:
160
Street Address:
10202 Old Federal Road
City:
Carnesville
State:
GA
Phone:
706-677-2600
Offered at this truck wash
Truck Washing
Exterior Trailer Washing
Trailer Washouts
(Excluding Tanker and Live Stock Trailers)
Rain-X® Complete All Surface Protectant
citrushine Polished Aluminum Cleaner
Engine Wash
Aluminum Trailer & Accessory Brightening
WeatherShield Paint Protectant
RV Washing
Motorcoach Washing
Horse Trailer Washing (Exterior)

Blue Beacon of Carnesville, Georgia, is located off I-85, exit 160. We are open 24 hours a day, 7 days a week to provide our customers with an outstanding, quality wash. We also offer a variety of extras includingRain-X® Complete All Surface Protectant, WeatherShield Paint Protectant, and citrushine Polished Aluminum Cleaner. So, stop in and give us a try. You will be glad you did!