BLUE BEACON TRUCK WASH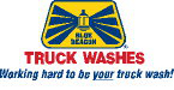 Highway:
I-75
Exit:
60
Street Address:
27 Expressway Lane
City:
Tifton
State:
GA
Phone:
229-556-9490
Offered at this truck wash
Truck Washing
Exterior Trailer Washing
Trailer Washouts
(Excluding Tanker and Live Stock Trailers)
Rain-X® Complete All Surface Protectant
citrushine Polished Aluminum Cleaner
Engine Wash
Aluminum Trailer & Accessory Brightening
WeatherShield Paint Protectant
RV Washing
Motorcoach Washing
Horse Trailer Washing (Exterior)

Special Services
Tire Dressing (Weather Permitting)
Hand Dry (Weather Permitting)

Located at I-75, exit 60, we serve South Georgia. Our well-trained staff looks forward to providing you superior truck and RV wash services each time you visit Blue Beacon of Tifton. We are a single bay truck wash offering citrushine Polished Aluminum Cleaner and our premium package of driveway services. Ask about our hand dry, tire dressing, and WeatherShield Paint Protectant when you stop in to see us.