BLUE BEACON TRUCK WASH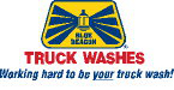 Highway:
I-95
Exit:
131
Street Address:
300 N Kings Highway
City:
Ft. Pierce
State:
FL
Phone:
772-429-1459
Offered at this truck wash
Truck Washing
Exterior Trailer Washing
Trailer Washouts
(Excluding Tanker and Live Stock Trailers)
Rain-X® Complete All Surface Protectant
citrushine Polished Aluminum Cleaner
Engine Wash
Aluminum Trailer & Accessory Brightening
WeatherShield Paint Protectant
RV Washing
Motorcoach Washing
Horse Trailer Washing (Exterior)

Special Services
Tire Dressing

Located at I-95, Exit 131, we serve east central Florida. Our location is open 24 hours a day, 7 days a week, offering premium wash services for all your equipment needs. Our double bay truck wash offers citrushine Polished Aluminum Cleaner for your polished aluminum. Stop in dirty & we'll send you out clean with a minimum of time spent waiting in line. We're fast!