BLUE BEACON TRUCK WASH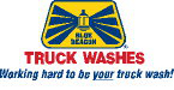 Highway:
I-90
Exit:
399
Street Address:
5307 N Cliff
City:
Sioux Falls
State:
SD
Phone:
605-335-0934
Offered at this truck wash
Truck Washing
Exterior Trailer Washing
Trailer Washouts (Excluding Tanker and Live Stock Trailers)
Rain-X® Complete All Surface Protectant
citrushine Polished Aluminum Cleaner
Engine Wash
Aluminum Trailer & Accessory Brightening
WeatherShield Paint Protectant
RV Washing
Motorcoach Washing
Horse Trailer Washing (Exterior)

Special Services
NEW! Trailer Deodorizer

Blue Beacon of Sioux Falls looks forward to serving all your wash needs. Come visit our clean, well-maintained location and watch a dedicated and well-trained staff work hard to make you look good. Ask about citrushine Polished Aluminum Cleaner - it cleans the aluminum and keeps the shine.