BLUE BEACON TRUCK WASH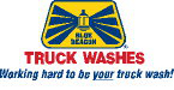 Highway:
PATP
Exit:
161
Street Address:
139 Posthouse
City:
Breezewood
State:
PA
Phone:
814-735-4888
Offered at this truck wash
Truck Washing
Exterior Trailer Washing
Trailer Washouts
(Excluding Tanker and Live Stock Trailers)
Rain-X® Complete All Surface Protectant
citrushine Polished Aluminum Cleaner
Engine Wash
Aluminum Trailer & Accessory Brightening
WeatherShield Paint Protectant
RV Washing
Motorcoach Washing
Horse Trailer Washing (Exterior)

Blue Beacon of Breezewood is located at exit 161 off of Interstate 70, and we are dedicated to being your truck wash of choice. We pride ourselves on delivering a quality wash in the minimum time possible with friendly service from the time you pull in until the time you pull out. We appreciate your business and will not take it for granted. So the next time you are near Breezewood, Pennsylvania, stop by and give us a try.