BLUE BEACON TRUCK WASH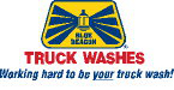 Highway:
I-90
Exit:
35
Street Address:
4090 Depot Road
City:
Harborcreek
State:
PA
Phone:
814-899-9960
Offered at this truck wash
Truck Washing
Exterior Trailer Washing
Trailer Washouts
(Excluding Tanker and Live Stock Trailers)
Rain-X® Complete All Surface Protectant
citrushine Polished Aluminum Cleaner
Engine Wash
Aluminum Trailer & Accessory Brightening
WeatherShield Paint Protectant
RV Washing
Motorcoach Washing
Horse Trailer Washing (Exterior)

Located behind the TA Travel Plaza at I-90, exit 35, we are proud to provide your premium wash service needs. Nestled in the snow belt of northwestern Pennsylvania, just off Lake Erie, our employees are seasoned professionals at removing salt and ice in the winter months, and bugs and grime during the summer months. We look forward to serving you!