BLUE BEACON TRUCK WASH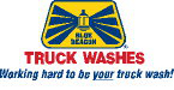 Highway:
I-5
Exit:
307
Street Address:
10308 N Vancouver Way
City:
Portland
State:
OR
Phone:
503-283-3270
Offered at this truck wash
Truck Washing
Exterior Trailer Washing
Trailer Washouts
(Excluding Tanker and Live Stock Trailers)
Rain-X® Complete All Surface Protectant
Engine Wash
Aluminum Trailer & Accessory Brightening
WeatherShield Paint Protectant
RV Washing
Motorcoach Washing
Horse Trailer Washing (Exterior)

Located at I-5, exit 307 (at Jubitz travel plaza), we have been serving the Northwest for over 12 years. Our well-trained staff and highly committed supervisors urge you to come visit us and allow us to provide you with a superior wash experience. Along with our exceptional truck wash service, we also provide RV and motorcoach washing, WeatherShield Paint Protectant, and engine steam cleaning. Stop in dirty and leave with a smile!