BLUE BEACON TRUCK WASH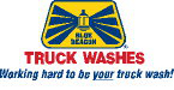 Highway:
I-40/75
Exit:
369
Street Address:
13024 Palestine Lane
City:
Knoxville
State:
TN
Phone:
865-690-3727
Offered at this truck wash
Truck Washing
Exterior Trailer Washing
Trailer Washouts
(Excluding Tanker and Live Stock Trailers)
Rain-X® Complete All Surface Protectant
citrushine Polished Aluminum Cleaner
Engine Wash
Aluminum Trailer & Accessory Brightening
WeatherShield Paint Protectant
RV Washing
Motorcoach Washing
Horse Trailer Washing (Exterior)

Special Services
Tire Dressing (Weather Permitting)

Blue Beacon of Knoxville is proud to be your number one choice for truck washes in East,Tennessee. Our dedicated staff strives to provide you a fast, high quality wash with friendly service. With 100 locations and competitive prices, we are sure your first visit to Blue Beacon will not be your last. Blue Beacon of Knoxville is located on I-40/75, exit 369, at Petro Travel Plaza. Stop in for a great wash with Southern hospitality!