BLUE BEACON TRUCK WASH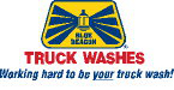 Highway:
I-435
Exit:
57
Street Address:
1201 N Corrington Ave.
City:
Kansas City
State:
MO
Phone:
816-231-6858
Offered at this truck wash
Truck Washing
Exterior Trailer Washing
Trailer Washouts
(Excluding Tanker and Live Stock Trailers)
Rain-X® Complete All Surface Protectant
citrushine Polished Aluminum Cleaner
Engine Wash
Aluminum Trailer & Accessory Brightening
WeatherShield Paint Protectant
RV Washing
Motorcoach Washing
Horse Trailer Washing (Exterior)

Special Services
Undercarriage Rinse
Certified CAT Scales (Drive Up Service)

Blue Beacon of Kansas City is located at exit 57 off of Interstate 435 just minutes off of Interstate 70. We offer drive up Cat Scale window service and are open 24 hours a day and 7 days a week. We provide premium wash services for all your equipment cleaning needs, as well as all of your family vehicles. We are a double bay facility that will minimize your wait time.
* Blue Beacon
* CAT Scales
* Scales
* Trailer Wash
* Truck Wash