BLUE BEACON TRUCK WASH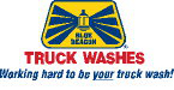 Highway:
I-95
Exit:
104
Street Address:
23430 Cool Water Drive
City:
Ruther Glenn
State:
VA
Phone:
804-448-4899
Offered at this truck wash
•Truck Washing
•Exterior Trailer Washing
•Trailer Washouts
(Excluding Tanker and Live Stock Trailers)
•Rain-X ® Complete All Surface Protectant
•citrushine™ Polished Aluminum Cleaner
•Engine Wash
•Aluminum Trailer & Accessory Brightening
•WeatherShield ™ Paint Protectant
•RV Washing
•Motorcoach Washing
•Horse Trailer Washing (Exterior)
When you are driving down Interstate 95, stop in at Blue Beacon of Ruther Glen. We are located between Richmond, Virginia, and Washington D.C., in rural historic Caroline County at Exit 104. We are located behind the Petro Fuel Island. Our staff enjoys serving you in a courteous and friendly manner. So take some time off the road and come in and pay us a visit.