BLUE BEACON TRUCK WASH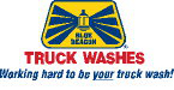 Highway:
I-10
Exit:
138
Street Address:
1235 N. 57th Ave.
City:
PHOENIX
State:
AZ
Phone:
602-358-0165
Offered at this truck wash
Truck Washing
Exterior Trailer Washing
Trailer Washouts
(Excluding Tanker and Live Stock Trailers)
Rain-X® Complete All Surface Protectant
citrushine Polished Aluminum Cleaner
Engine Wash
Aluminum Trailer & Accessory Brightening
WeatherShield Paint Protectant
RV Washing
Motorcoach Washing
Horse Trailer Washing (Exterior)

Special Services
Undercarriage Rinse
Certified CAT Scales (Drive Up Service)
Blue Coral® Premium Protectant
Rain-X® Windshield
Tire Dressing
Hand Dry
Serving the Metro Phoenix area, we are the newest location in Arizona. Our truck wash is located on Interstate 10, exit 138 (right behind the Liberty Fuel Center). With two bays and our premium driveway services, we will have your truck or RV looking fantastic without a long wait. When in the Phoenix area, please allow us the opportunity to provide you and your truck the quality service you deserve.
* Blue Beacon
* CAT Scales
* Scales
* Trailer Wash
* Truck Wash