BLUE BEACON TRUCK WASH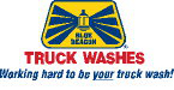 Highway:
I-10
Exit:
200
Street Address:
5265 N. Sunland Gin Road
City:
CASA GRANDE
State:
AZ
Phone:
520-426-9362
Offered at this truck wash
Truck Washing
Exterior Trailer Washing
Trailer Washouts
(Excluding Tanker and Live Stock Trailers)
Rain-X® Complete All Surface Protectant
citrushine Polished Aluminum Cleaner
Engine Wash
Aluminum Trailer & Accessory Brightening
WeatherShield Paint Protectant
RV Washing
Motorcoach Washing
Horse Trailer Washing (Exterior)

Special Services
Blue Coral ® Premium Protectant
Rain-X ® Windshield
Tire Dressing
Hand Dry

Located at I-10, exit 200, we serve South Central Arizona. Our well-trained staff looks forward to providing you superior truck and RV wash services each time you visit Blue Beacon of Casa Grande. We are a double bay truck wash offering citrushine Polished Aluminum Cleaner and our premium package of driveway services. Ask about our hand dry, tire dressing, Rain-X® Complete and WeatherShield Paint Protectant when you stop in to see us.