BLUE BEACON TRUCK WASH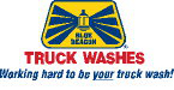 Highway:
I-5
Exit:
219 A
Street Address:
5831 Santa Elena Dr.
City:
WHEETER RIDGE
State:
CA
Phone:
661-858-2090
Offered at this truck wash
Truck Washing
Exterior Trailer Washing
Trailer Washouts
(Excluding Tanker and Live Stock Trailers)
Rain-X® Complete All Surface Protectant
citrushine Polished Aluminum Cleaner
Engine Wash
Aluminum Trailer & Accessory Brightening
WeatherShield Paint Protectant
RV Washing
Motorcoach Washing
Horse Trailer Washing (Exterior)

Blue Beacon of Wheeler Ridge is located at the Laval Road exit off of Interstate 5 by the TA Truck Stop. We are here to serve you with a combined 85 years of experience between our management and supervisor teams. We provide you with the quality wash you desire and deserve without the long wait. We also have a state-of-the-art water system that provides the very best rinse water for a quality spot free rinse every time. Other services include WeatherShield Paint Protectant, engine washing, and citrushine Polished Aluminum Cleaner.