BLUE BEACON TRUCK WASH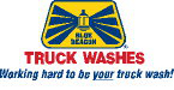 Highway:
I-15
Exit:
178
Street Address:
2540 High Point Parkway
City:
BARSTOW
State:
CA
Phone:
760-253-7395
Offered at this truck wash
Truck Washing
Exterior Trailer Washing
Trailer Washouts
(Excluding Tanker and Live Stock Trailers)
Rain-X® Complete All Surface Protectant
Engine Wash
Aluminum Trailer & Accessory Brightening
WeatherShield Paint Protectant
RV Washing
Motorcoach Washing
Horse Trailer Washing (Exterior)

Special Services
Blue Coral® Premium Protectant
citrushine Polished Aluminum Cleaner
(Not offered at this location.)
Rain-X® Windshield
Tire Dressing
Hand Dry

Blue Beacon of Barstow offers three bays to serve our customers, as well as our Premium Front Drive Services. These services include towel dry, Blue Coral® Premium Protectant, Rain-X® Windshield treatment, and tire dressing. We also have the new Rain-X® Complete spray on protectant available. Joining Ed is Operations Managers Raul Rudy Gutierrez and Chris Wills. Ed, Rudy, and Chris say, "Our goal is 100% customer satisfaction with a minimum wait time. We are working hard to be your truck wash of choice."