BLUE BEACON TRUCK WASH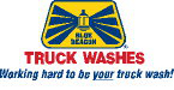 Highway:
I-10
Exit:
15-B
Street Address:
1630 McGarry St.
City:
LOS ANGELES
State:
CA
Phone:
213-477-1060
Offered at this truck wash
Truck Washing
Exterior Trailer Washing
Trailer Washouts
(Excluding Tanker and Live Stock Trailers)
Rain-X® Complete All Surface Protectant
citrushine Polished Aluminum Cleaner
Engine Wash
Aluminum Trailer & Accessory Brightening
WeatherShield Paint Protectant
RV Washing
Motorcoach Washing
Horse Trailer Washing (Exterior)

Special Services
Tire Dressing
NEW! Trailer Deodorizer

Blue Beacon of Los Angeles serves Southern California and is located at I-10, exit Alameda. Our well-trained staff looks forward to providing you with superior truck washing and RV washing services each time you wash with Blue Beacon. Our location is open 24 hours a day, 7 days a week, offering premium wash services for all your equipment cleaning needs. We look forward to serving you. With three bays, we will get you back on the road again in no time. Stop in dirty and we will send you out clean with a minimum amount of time spent waiting in line. We're fast!