BLUE BEACON TRUCK WASH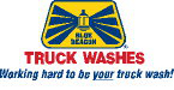 Highway:
I-5
Exit:
485
Street Address:
15335 North Thornton Rd.
City:
FLAG CITY
State:
CA
Phone:
209-333-9210
Offered at this truck wash
Truck Washing
Exterior Trailer Washing
Trailer Washouts
(Excluding Tanker and Live Stock Trailers)
Rain-X® Complete All Surface Protectant
citrushine Polished Aluminum Cleaner
Engine Wash
Aluminum Trailer & Accessory Brightening
WeatherShield Paint Protectant
RV Washing
Motorcoach Washing
Horse Trailer Washing (Exterior)

Special Services
Tire Dressing

Blue Beacon of Flag City is located near Lodi, California, next to the Flying J at Hwy. 12 and I-5. We have three bays to minimize your wait time and provide you with the best possible service that will keep you on the road with fast and quality washes. Our trained staff has pledged to provide you with excellent customer service by listening to your concerns, and ensuring a thorough in-bay inspection to provide you with a great wash every time. With the citrushine Polished Aluminum Cleaner, we can clean all your polished aluminum without turning it white. All types of vehicles are welcome so come on in and let us take care of all your wash needs.