BLUE BEACON TRUCK WASH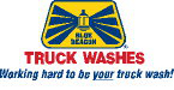 Highway:
I-64
Exit:
25-AB
Street Address:
12744 Access 1250 S.
City:
EVANSVILLE
State:
IN
Phone:
812-768-5606
Offered at this truck wash
Truck Washing
Exterior Trailer Washing
Trailer Washouts
(Excluding Tanker and Live Stock Trailers)
Rain-X® Complete All Surface Protectant
citrushine Polished Aluminum Cleaner
Engine Wash
Aluminum Trailer & Accessory Brightening
WeatherShield Paint Protectant
RV Washing
Motorcoach Washing
Horse Trailer Washing (Exterior)

Special Services
Undercarriage Rinse

You'll find three bays at Blue Beacon of Evansville to assure that you get a great wash, spend less time in line, and get back on the road in no time. Try our citrushine Polished Aluminum Cleaner. It cleans polished aluminum without turning it white. All types of vehicles are welcome. We are located at Exit 25, on I-64 and Highway 41.