BLUE BEACON TRUCK WASH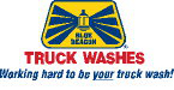 Highway:
I-80
Exit:
284
Street Address:
1001 Waler St.
City:
WALCOTT
State:
IA
Phone:
563-284-4044
Offered at this truck wash
Truck Washing
Exterior Trailer Washing
Trailer Washouts
(Excluding Tanker and Live Stock Trailers)
Rain-X® Complete All Surface Protectant
citrushine Polished Aluminum Cleaner
Engine Wash
Aluminum Trailer & Accessory Brightening
WeatherShield Paint Protectant
RV Washing
Motorcoach Washing
Horse Trailer Washing (Exterior)

Situated at the junction of Hwy. I-40 and I-80, Blue Beacon of Walcott welcomes you to stop in for all your truck washing needs. With a friendly and professional staff willing to go the extra mile to ensure your satisfaction, you will be pleased each and every time, guaranteed! Our management and supervisory staff have over 60 years combined experience, and will help you decide on the services that best suit your truck washing needs. See you soon!