BLUE BEACON TRUCK WASH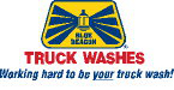 Highway:
I-10
Exit:
37
Street Address:
11480 Stockyard Road
City:
EL PASO
State:
TX
Phone:
915-859-5596
Offered at this truck wash
Truck Washing
Exterior Trailer Washing
Trailer Washouts
(Excluding Tanker and Live Stock Trailers)
Rain-X® Complete All Surface Protectant
citrushine Polished Aluminum Cleaner
Engine Wash
Aluminum Trailer & Accessory Brightening
WeatherShield Paint Protectant
RV Washing
Motorcoach Washing
Horse Trailer Washing (Exterior)
Special Services
Tire Dressing

Blue Beacon of El Paso, Texas, where we always strive to serve our customers better! We invite you to visit our clean, spacious and well lit facility located at I-10 East Exit 37, just behind Petro Travel Plaza and close to Loves and Flying J Travel Plazas. Our friendly staff is eager to provide you with a quality wash in exceptional time 24 hours a day, 7 days a week. We want Blue Beacon to be the first choice for all your equipment cleaning needs. Your business is appreciated an we will work hard to keep it. Thanks and see you real soon!