BLUE BEACON TRUCK WASH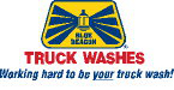 Highway:
I-10
Exit:
789
Street Address:
6730 Thompson Rd
City:
BAYTOWN
State:
TX
Phone:
281-424-3710
Offered at this truck wash
Truck Washing
Exterior Trailer Washing
Trailer Washouts
(Excluding Tanker and Live Stock Trailers)
Rain-X® Complete All Surface Protectant
citrushine Polished Aluminum Cleaner
Engine Wash
Aluminum Trailer & Accessory Brightening
WeatherShield Paint Protectant
RV Washing
Motorcoach Washing
Horse Trailer Washing (Exterior)
Special Services
Undercarriage Rinse

Located at IH 10, exit 789 Thompson Road, we serve all of Houston Metro. Our well trained staff is excited to provide you a quality Truck, or RV wash each time you stop in Baytown, Texas. Our Baytown location is a double bay wash offering citrushine Polished Aluminum Cleaner, Rain-X® Complete, and the new Undercarriage Rinse. Ask any supervisor for these special services. See ya'll soon!