BLUE BEACON TRUCK WASH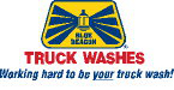 Highway:
I-10
Exit:
582
Street Address:
1112-5 Ackerman Road
City:
SAN ANTONIO
State:
TX
Phone:
210-661-5897
Offered at this truck wash
Truck Washing
Exterior Trailer Washing
Trailer Washouts
(Excluding Tanker and Live Stock Trailers)
Rain-X® Complete All Surface Protectant
citrushine Polished Aluminum Cleaner
Engine Wash
Aluminum Trailer & Accessory Brightening
WeatherShield Paint Protectant
RV Washing
Motorcoach Washing
Horse Trailer Washing (Exterior)


Welcome to the Alamo City! Here you will be greeted with a big Texas smile and a real desire to send you down the road in a clean truck. We like to think of ourselves as a health spa for trucks. Beyond an excellent wash service, we offer citrushine Polished Aluminum Cleaner for that extra touch. If you find yourself in the Lone Star State and you need a wash - please "Remember the Alamo." We are located at exit 582 off of Interstate 10.