BLUE BEACON TRUCK WASH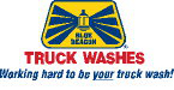 Highway:
I-20
Exit:
409
Street Address:
1926 Santa Fe Drive
City:
WEATHERFORD
State:
TX
Phone:
817-594-4601
Offered at this truck wash
Truck Washing
Exterior Trailer Washing
Trailer Washouts
(Excluding Tanker and Live Stock Trailers)
Rain-X® Complete All Surface Protectant
citrushine Polished Aluminum Cleaner
Engine Wash
Aluminum Trailer & Accessory Brightening
WeatherShield Paint Protectant
RV Washing
Motorcoach Washing
Horse Trailer Washing (Exterior)

We invite you to come by and visit our friendly staff at Blue Beacon of Weatherford. Located on I-20, exit 409, we are well trained to handle your wash needs, big or small, 24 hours a day. Our double bay location offers services including engine cleaning, WeatherShield Paint Protectant, and citrushine Polished Aluminum Cleaner. So the next time you are in the area, please stop in and experience our outstanding service!