BLUE BEACON TRUCK WASH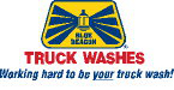 Highway:
I-35
Exit:
13
Street Address:
1103 Uniroyal Road
City:
LAREDO
State:
TX
Phone:
956-725-1060
Offered at this truck wash
Truck Washing
Exterior Trailer Washing
Trailer Washouts
(Excluding Tanker and Live Stock Trailers)
Rain-X® Complete All Surface Protectant
citrushine Polished Aluminum Cleaner
Engine Wash
Aluminum Trailer & Accessory Brightening
WeatherShield Paint Protectant
RV Washing
Motorcoach Washing
Horse Trailer Washing (Exterior)

Blue Beacon of Laredo is located at I-35, Exit 13, at Pilot. We are open 24 hours a day, 7 days a week and are here to provide a fast, clean wash. We now offer citrushine Polished Aluminum Cleaner that cleans polished aluminum without turning it white. We look forward to serving you for all your washing needs. Come see us soon.