BLUE BEACON TRUCK WASH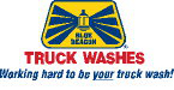 Highway:
I-40
Exit:
75
Street Address:
8500 E Interstate 40
City:
AMARILLO
State:
TX
Phone:
806-374-3309
Offered at this truck wash
Truck Washing
Exterior Trailer Washing
Trailer Washouts
(Excluding Tanker and Live Stock Trailers)
Rain-X® Complete All Surface Protectant
citrushine Polished Aluminum Cleaner
Engine Wash
Aluminum Trailer & Accessory Brightening
WeatherShield Paint Protectant
RV Washing
Motorcoach Washing
Horse Trailer Washing (Exterior)
Special Services
Undercarriage Rinse
Tire Dressing

It has been our pleasure to provide superior truck washing services to our customers in the Panhandle area for over 10 years. Our location at I-40, exit 75 is open 24 hours a day, 7 days a week, offering premium wash services for all your equipment cleaning needs. Our double bay truck wash offers Undercarriage Rinse. This is a new system at Blue Beacon that features Salt-Away, which is designed to get rid of salt and road grime that accumulates on the underside of your truck due to weather.