BLUE BEACON TRUCK WASH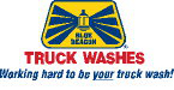 Highway:
I-94
Exit:
322
Street Address:
9625 S 20th
City:
MILWAUKEE
State:
WI
Phone:
414-761-1099
Offered at this truck wash
Truck Washing
Exterior Trailer Washing
Trailer Washouts
(Excluding Tanker and Live Stock Trailers)
Rain-X® Complete All Surface Protectant
citrushine Polished Aluminum Cleaner
Engine Wash
Aluminum Trailer & Accessory Brightening
WeatherShield Paint Protectant
RV Washing
Motorcoach Washing
Horse Trailer Washing (Exterior)

Blue Beacon of Milwaukee is proud to be one of two Wisconsin locations providing premium tractor/trailer, RV, and motorcoach wash services, as well as trailer washouts. The truck wash is located off I-94 at exit 322. With over 20 years experience, you will stop in dirty and we will send you out clean with a minimum amount of time spent waiting in line.