BLUE BEACON TRUCK WASH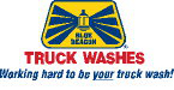 Highway:
I-75
Exit:
285
Street Address:
29939 State Rd. 52
City:
San Antonio
State:
FL
Phone:
3525880095
Offered at this truck wash
Truck Washing
•Exterior Trailer Washing
Trailer Washouts
(Excluding Tanker and Live Stock Trailers)
Rain-X ® Complete All Surface Protectant
citrushine™ Polished Aluminum Cleaner
Engine Wash
Aluminum Trailer & Accessory Brightening
WeatherShield ™ Paint Protectant
RV Washing
Motorcoach Washing
Horse Trailer Washing (Exterior)

Locatated at I-75, Exit 285 by Flying J Travel Plaza, Blue Beacon of Dade City is eager to provide high quality washes 24 hours a day, 7 days a week for the entire Gulf Coast of Florida. Our double bay truck wash will reduce your time in line and get you back on the road quickly. We offer citrushine™ Aluminum Cleaner for your polished aluminum.