BLUE BEACON TRUCK WASH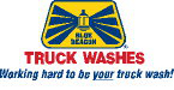 Highway:
I-95
Exit:
169
Street Address:
3003 T V Road
City:
FLORENCE
State:
SC
Phone:
8436799573
Offered at this truck wash
Truck Washing
Exterior Trailer Washing
Trailer Washouts
(Excluding Tanker and Live Stock Trailers)
Rain-X Complete All Surface Protectant
citrushine Polished Aluminum Cleaner
Engine Wash
Aluminum Trailer & Accessory Brightening
WeatherShield Paint Protectant
RV Washing
Motorcoach Washing
Horse Trailer Washing (Exterior)

Blue Beacon of Florence is situated halfway between New York City and Miami. We are located in the Palmetto State on I-95 (double bay truck wash alley) at exit 169. You have been to the rest, now come to the best. We offer clean restrooms, a comfortable lounge, citrushine Polished Aluminum Cleaner, degreasing, and WeatherShield Paint Protectant - all in a professional friendly atmosphere. We are working hard to be your truck wash of choice.