BLUE BEACON TRUCK WASH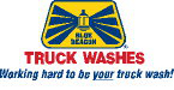 Highway:
Hwy 401
Exit:
320
Street Address:
40 Chisholm Drive
City:
MILTON
State:
ON
Phone:
9058783060
Offered at this truck wash

Truck Washing
Exterior Trailer Washing
Trailer Washouts
(Excluding Tanker and Live Stock Trailers)
Rain-X ® Complete All Surface Protectant
citrushine Polished Aluminum Cleaner
Engine Wash
Aluminum Trailer & Accessory Brightening
WeatherShield Paint Protectant
RV Washing
Motorcoach Washing
Horse Trailer Washing (Exterior)

We are the first Blue Beacon Truck Wash in Canada. We work hard to treat you like number one. We are the only double bay in Canada which helps us to ensure we can get you back out on the road quickly with a sparkling truck. We are located with the Fifth Wheel Truck Stop just south of the 401 at Hwy 25. Hope to see you soon.