RODEWAY INN & SUITES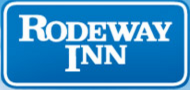 Street Address:
43 W. Areba Ave.
City:
Hershey
State:
PA
Phone:
(717) 533-7054
Fax:
(717) 533-3405
* The entrance to my property will allow a tractor with an air scoop on top.
* I have on premise parking for tractor & trailer, or tractor only.
* Exterior electrical outlets are available for truckers.
* Washer/Dryer on premise.
* Located near an interstate highway.
* Within walking distance to restaurants.
* Air Conditioning, Rm
* Airline Ticket Desk
* AT&T Long Distance
* Barber Shop
* Bicycle Rental
* Blue Pages received
* Brkfst Dlx Cont Free
* Clock Radio/AM-FM
* Coffee, FREE
* Convenience Store
* Convention Center
* Copy Svc for Guests
* Corridors, Exterior
* Duplication room key
* Emergency Exit Map
* Evacuation Plan
* Fans, Ceiling
* Fax Svc for Guests
* Fire Detectors, Hall
* Fire Detectors, Pubc
* Fire Extiguish, Hall
* Fire Safety Act 1990
* FlatScreen/Plasma TV
* Free Hi-Spd Wireless
* Free Hi-Speed Intrnt
* Golf Course
* Golf, Miniature
* Hair Dryer
* Ice Machine
* Iron & Ironing Board
* Kitchen Facilities
* Late Check-out
* Library
* Local Laws,fire/safe
* Locks, Guest Windows
* Lowest Rate
* Microwave
* Newspaper, Free M-F
* No credit card surch
* No Pets Allowed
* Non-smoking hotel
* Non-Smoking Rooms
* Parking, Car,Outdoor
* Phone, Local, FREE
* Phone, Toll FREE
* Phone, Touch-Tone
* Picnic Area
* Pool,Indoor,Heated
* Refrigerator
* Renovation Plans
* Rodeway Inn
* Room to be Green
* Room Upgrades
* Smoke Det.,Hardwired
* Smoke Detect,Battery
* Smoke Detector, Hall
* Smoke Detector, Pub
* Smoke Detector, Rms
* Smoke Detectors
* Tennis, Outdr/Lit
* TV, Cable/Satellite
* Wake-Up Service
* Walkways, Lighted
* Well-lit Area, InRm
* Windows that open